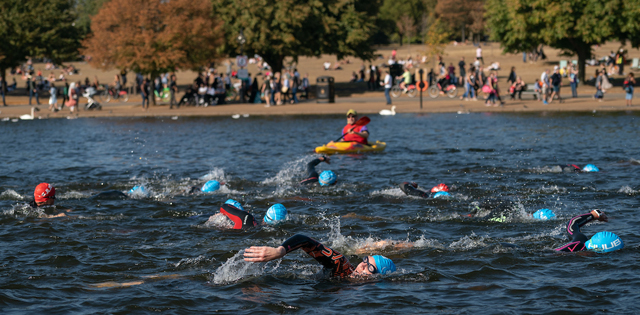 Outdoor swimming advice
Open water swimming was one of the first activities allowed by the government when the lockdown regulations eased on 13 May. Many venues are now starting to reopen, so if you're keen to get back in the (open) water, check out the following advice…
Location, location, location
Open water swimming has always been about enjoying, and being immersed in, nature, rather than overcrowding beaches, upsetting locals or placing a strain on rescue services. However, there are lots of places around the country where you can still enjoy open water. Many swim centres will be reopening from July, but as they will be following government social distancing advice you will probably need to book ahead.
Open water swimming encompasses everything from rivers, tarns, lakes, lochs and seas. Some waters are free and have open access and some are privately owned and may have regulated swim sessions. Ask around to find a group of open water swimmers near you – Facebook is ideal for finding your local swimming fraternity.
Before you swim outdoors, it is your responsibility to be sufficiently fit and healthy to participate in open water swimming. You should think about any pre-existing medical conditions that you may have and, if in any doubt, you should not swim.
In terms of sea swimming, there are no RNLI lifeguards operating presently. Volunteer lifeboat crews are fully operational, but if you choose to swim in the sea you should understand the risks and take the necessary steps to keep yourself safe. This will help reduce the demand on lifeboat crews and other emergency services. Visit the RNLI website for advice on sea swimming.
Find a local coach
There are a large number of qualified open water swimming coaches around the country who can take out individuals or small groups for introduction sessions. A quick Google search should locate some close to you.
Your safety should come first when you're swimming in open water – and that now includes a social distancing element – so we asked Colin Hill, Swim Director of Children with Cancer UK Swim Serpentine, for his simple guidelines on swimming outdoors. Here's Hill's advice:
Local knowledge
Local advice from swimmers is important. Find out where other swimmers go for a dip and try to speak with someone to ask about conditions in the area and anything else you need to be aware of. Swimmers are generally a friendly bunch to approach for information.
Safety first
Don't forget your common sense. You need to be aware of the safety issues where you choose to swim. Are there any warning signs around the water? You should also try to assess the water quality – if it's smelly or it doesn't look right, give it a miss. Consider how recent weather might have affected the water – after lots of rain, for example, rivers can flood, flow faster and present dangers. If you're planning a sea swim, check with locals to find out more about the tides. Don't dive or jump into unknown depths. Of course, there is also a general 'No petting' rule in force, which has stuck with me from the old swimming pool warning posters!
Keep your distance
Adhere to social distancing requirements throughout your swim, including arrival, changing and post-swim. Most open water swimming centres now have selected times when you can book an outdoor swimming slot.
Choose your moment
Weekends and warm days will be the busiest times to swim, so, if possible, try to avoid adding to the numbers. I do my lake swims on weekdays and well before 09:00 and I enjoy swimming in all weather conditions – and while you don't want to swim in storms or high winds, a little bit of choppy water and drizzle is great practise.
Swim together
Don't swim alone, swim with others (at an appropriate distance) so you can keep an eye on each other. Having someone from your household on the shore to assist you when you exit the water is always helpful. You should also let someone know where you are, what you are doing and your expected return time.
Stand out
Use a tow float – this increases your visibility to boat users and other swimmers and if you get cramp you can hold onto it. There are dry bag versions so you can take your car keys or clothes with you. Wear a bright-coloured hat so you are more visible when swimming. Visit our partners swimsecure.co.uk for tow floats and dry bags.
Plan your entry and exit points
When you find a section of water to swim in, make sure you have a safe place to enter and exit the water. When you start swimming, check to make sure you can easily spot where you started from, this will make it easier when you want to leave the water. Look for landmarks that will be visible from the water.
Enjoy it!
Don't forget to enjoy your swim! I always take a moment to look around me and really appreciate where I am. Start with a little head-up breaststroke to settle your breathing before starting your preferred stroke.
Outdoor swimming venues
Our friends at Outdoor Swimmer magazine have put together a directory of supervised and commercially operated venues where you can swim. Check out the directory for more information – and be sure to call ahead to make sure they're open as some open water swimming venues remain closed.
Colin Hill is based in the Lake District, where he offers a variety of guided wild swims, including the length of Ullswater, as well as open water swim coaching. Find out more at ullswaterswimplace.com